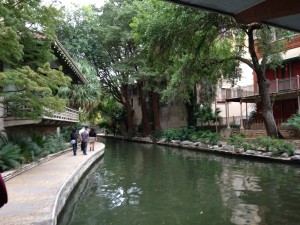 There are loads of cowboy romances on the market and my perception is that they're hugely popular. Wanting to see what all the talk was about, I persuaded Terry to take me to Texas for a brief anniversary vacation before Thanksgiving. Last year was Italy, but this year I wanted to stay stateside and buy cowboy boots and string ties.
We stayed right on the Riverwalk, which we walked several times. MEH. Wasn't terribly impressed. Mostly generic restaurants, nothing outstanding. I feel badly about saying that because the area could use the tourism. Very economically depressed downtown. Our tours of the Alamo and missions were educational and entertaining. But, once again, both were in the middle of blighted neighborhoods. Sad. A news commentary on TV while were we there substantiated the large percentage of poverty in the downtown area.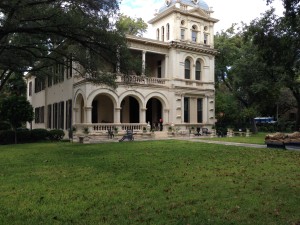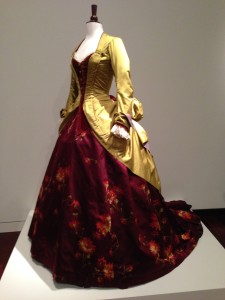 We really enjoyed the historical section. A couple of beautiful and walkable streets. We went inside Steves Homestead and Villa Finale for a tour, and both guides were friendly and knowledgeable. Afterwards, we walked over to Gunther House, a 19th century mill museum, for lunch. Enjoyed the ambience and the food lots.
My favorite part of the tour was the McNay Museum. We caught a wonderful movie costume exhibit there. Pix of the apparel was allowed. Breathtaking stitchery and fabric. I just stood and gawked at the gowns.
After San Antonio, we went to Fort Worth, where we stayed in the old stockyards. Twice daily, "cowboys" on horseback drive a few heads of cattle through town for the sake of visiting tourists and photo ops. Sigh. I felt sorry for the cows.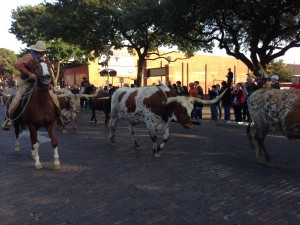 And that's as close to a cowboy as we came. I did come home from the trip with string ties. Cowboy boots, too, the ornamental kind for Christmas tree hanging.