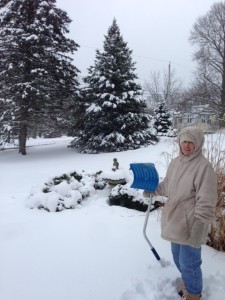 No absorbing Vitamin D today. The weather is bleak and dreary, with a scattering of rain overlaying already densely packed,  heavy, WET, snow. Great for making snowmen and for putting out the backs of those shoveling.
That would be me.
Last year, after living in this house for twenty-odd years, we finally broke down and brought a snow-blower home from a Big-Box store. It's earned the investment and then some. A few miles from the Atlantic and with a brackish river running through it, the town is subject to both ocean effect and lengthy power outages. The last storm produced the most snow in the state. A reporter for Boston News lives behind us and she was broadcasting from her roving TV van, yardstick in hand, measuring as the inches piled up.
Not a contest I ever wanted to see the town win.
Hopefully, the blower will keep us out of traction,  but it can't climb terraced stairs to the front door. That's where I come in. While DH blows, I lift and throw the white stuff. There I am in the front yard by my little girl fountain. Those poor battered bushes are boxwood. I should  burlap them so they'll retain their shape. Covering them will also help reduce breakage and winterkill. Obviously, I don't do that.
We have plans to see American Idiot this weekend at the Boston Opera House. And another storm is moving in.
I'll keep you advised.