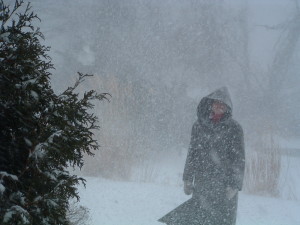 This winter has been relatively mild here in New England. In fact, I've been going through seed catalogues in preparation for an earlier than usual spring.
All that changed in the wee hours this morning when the winds began to blow the shovelable stuff around.
Yep, we're in the middle of a nor'easter.
I have some experience with wearing a hat and mittens in the house. Knowing its far better to lose heat at a balmy 68 degrees than at a chilly 60, I bounded downstairs at six this morning and kicked our antique furnace into high gear in anticipation of losing power.
Again.
I live in a rural town. A slow-moving and winding tidal river that empties into the the Atlantic Ocean borders the periphery. In 1690, Colonists built gristmills and sawmills on one of the many brooks. Farmers grazed their cows at the river's edge, and harvested salt hay; shipwrights, working in boatyards and landings dotting the river, built sea vessels from groves of white oak and pine. With progress, came larger ships that the river could no longer accommodate, and so the shipbuilding era came to a close in the mid-1800's.
And the trees kept growing.
Now, every time we experience any weather, those old white oak and pine topple onto the power lines, and we end up shivering.
So far, so good today.
Because of the storm, we couldn't take our usual hike. Instead, I took a walk down to the stream to investigate the crumbling state of our dam. That's me in the picture.
WRITING NEWS: My publisher, Loose Id, inaugurates their newsletter either on, or close to, Valentine's Day. In the first issue, I give my first ever interview. I can't help but wish I were a more interesting subject, but I tried. No, not to be interesting–can't make a silk purse out of a sow's ear–but I did try to answer the questions posed me as honestly as I could. Sign up for the newsletter, and read me make a fool of myself. I can think of no better incentive than that!
While I write this blog, the youngest kid is playing his latest CD for me. His group is really "breaking it down". Time for me to go punch down the oatmeal dough I'm trying to bake into a loaf of bread before the power flickers . . .