Finally, a new book! MIXED, a 19th century multi-cultural, erotic romance released this week. I'm thrilled to have self-published a third story.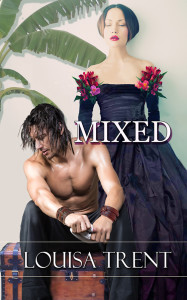 But I won't lie — it was a difficult story to tell. In every book, I try to be sensitive to the reality of the era without writing revisionist history. After all, I don't write straight historicals — I write historical romances. I want to entertain my readers. I want them to escape in these the books. So I wear rose colored glasses.
But this one, man! This one nearly broke me. A PoC romance in an immediate American Post Civil War setting?
The social commentary aspect was a tough haul.
Anyway, I tried.
Readers have asked me to write multi-cultural romances with a PoC heroine, not always a PoC hero. And I've done so. JOHARI GOES KINKY is a contemporary with a WM/BW and now MIXED is a WM/BW  historical.
Enjoy!