And I don't mean a writer has to pull the wool over a reader's eyes or the yarn will unravel.
I knit. I also crochet. A lot. Anyway, at an end-of-year sale, I bought 3 skeins of variegated wool yarn on-line without first reading the reviews or noting the labels. I was in a hurry, as usual, and let the pretty price tag lead me astray.
To make a short story long…I didn't like the stuff after it was delivered.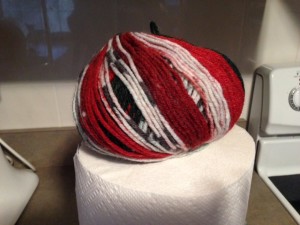 I pushed through it. I often don't like things right off the bat, then I change my mind and fall hard. Like my first visit to Portland, ME. That story will have to wait for some other time. Must stay on track. No side trips.
Three days into crocheting a spring scarf, I discovered my new red, white and black yarn was actually red, white, and green yarn. Light from my magnifying lamp hit the WIP just right, hence my AHA moment.
This should've been the tip-off. Alas, no. Not til Mr. Trent looked in on me crocheting madly away, my knuckles pumping, wrist rotating, and said, "Christmas?" in a quizzical tone that I looked at the name on the label.
"YULE TIME."
No spring scarf for me.
I pushed through it. Nearing the end of the second skein of yarn, my knuckles stopped pumping, my wrist stopped rotating. I stopped pushing through it.
I hated my new scarf. Loathed it. The colors. The "linen" crochet stitch. The texture. The pattern was okay for a rustic table runner but not for something I wanted to wear around my neck, not even at Christmas.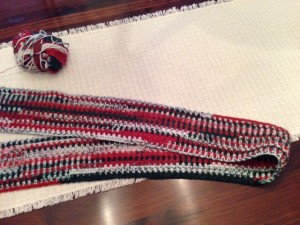 What if I changed things up? What if I knit the third skein of yarn, instead of crocheting it?
You be the judge. Same yarn, new approach. Did I achieve a different result?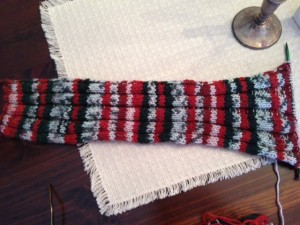 Plotting a book often involves experimentation. This is what I did with SEX STINGS, on sale now for $.99 at Amazon.
You be the judge. The reader always is. I wrote a psychic romance plot, but used a new approach. Did I achieve a different result?