My erotic romances run the gamut — contemporary, futuristic, paranormal, and historical. The latter genre is by far my favorite. I can bring an element of darkness, a tone of the forbidden, to an historical that far surpasses any other genre.
During Victorian times, the turn of a lady's ankle could scandalize. In such an outwardly (and often hypocritically) repressed time, imagine, if you will, the eroticism contained in wantonly displaying the quickening pulse at a lady's throat, the graceful line of her collarbone, the hint of breast. In an historical, the possibilities for sexual excitement are as fertile as my writer's wicked imagination. Add elements of BDSM to the mix, and the carnal seduction between a gentleman and a lady takes on a delightful taste of taboo.
There's a certain language to the historical, a formality, a cadence that walks a precarious line between stiffness and entertainment. Step over that line, and you have either a bored reader or one thrown out of the story by anachronism.
I do lots of research for my historical romances — reading, museums, movies…travel. Walking tours, in particular, help me experience the atmosphere of a place. Visiting historical houses also helps enormously. I highly recommend the tours given by the National Park Service.
To get a feel for the seaport town I wrote about in THE ACQUISITION, I spent an entire day in New Bedford, Massachusetts. At the TouristCenter, I soaked up tons of information and viewed a wonderful movie on whaling in 1844 New England.
On  vacation on the Atlantic coast, I visited Cape May, NJ. I'm not a beach person, but the resort boasts a marvelous collection of Victorian houses. Before even setting out on the trip, I borrowed a CD from the public library on Cape May architecture, done to familiarize myself in advance with the various building styles. Upon my arrival, I toured various homes and purchased six research books, among them: THE HISTORY OF UNDERCLOTHES, authored by Willett and Cunnington; and FASHIONS OF THE 1880's FROM THE 1885 BUTTERICK CATALOG.
In writing TAINTED LOVE, I visited the Morse-Libby brownstone mansion (circa 1860) in Portland Maine. I asked the very patient tour guide multitudinous questions about Victorian plumbing. If she thought I had some weird WC fetish, she'd be spot-on! In writing historical romances, the small everyday details — like toileting — lend a story an air of authenticity.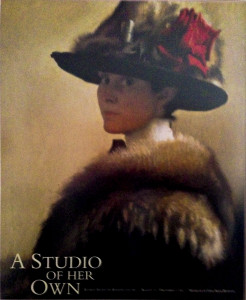 While writing TAINTED LOVE, I also visited the Boston Museum of Fine Arts to view the traveling exhibit of "A Studio Of Her Own", a display of paintings which spotlighted 19th century women artists.
Since my heroine, Lily, was just such an artist, I felt this trip was vitally important to characterization. And it was! The BIO's the museum posted about these women provided much useful background material for my book. I learned about what these dedicated and ambitious forerunners had to give up to pursue their art—marriage and children, the good opinion of society. And creature comforts. I also learned how women supported one another emotionally to achieve their goals. I came across the term "Boston marriages"—love relationships between women that lasted for years and flew in the face of convention.
I was so impressed with the exhibit that I purchased the poster you see to the left and hung it in my home as a reminder of these courageous women.
The "nuts and bolts"of writing TAINTED LOVE.
We'll start with the TITLE:
Lyrics to "Tainted Love" covered by Marilyn Manson
Sometimes I feel I've got to
Run away I've got to
Get away
From the pain that you drive into the heart of me
The love we share
Seems to go nowhere
I've lost my lights
I toss and turn I can't sleep at night

Once I ran to you (I ran)
Now I'll run from you
This tainted love you've given
I give you all a boy could give you
Take my tears and that's not nearly all
Tainted love
Tainted love

Now I know I've got to
Run away I've got to
Get away
You don't really want any more from me
To make things right
You need someone to hold you tight
You think love is to pray
I'm sorry I don't pray that way

Once I ran to you (I ran)
Now I'll run from you
This tainted love you've given
I give you all a boy could give you
Take my tears and that's not nearly all
Tainted love
Tainted love

Don't touch me please
I cannot stand the way you tease
I love you though you hurt me so
Now I'm going to pack my things and go
Touch me baby, tainted love
Touch me baby, tainted love
Touch me baby, tainted love

Once I ran to you (I ran)
Now I'll run from you
This tainted love you've given
I give you all a boy could give you
Take my tears and that's not nearly all
Tainted love
Tainted love
Tainted love
Manson's single was getting plenty of airplay while I wrote the story. Since the contemporary lyrics so closely described my historical book, I lifted the title.
Still with me?
Okay, moving onto the next element. THE SYNOPSIS:
TAINTED LOVE is an 82,000-word Gothic mystery of obsession and possession, featuring a terrified heroine in jeopardy, a morally ambiguous hero, an isolated setting, an eerie house, and layers of old family secrets.
A decade earlier Lily Hill, a twenty-eight year old artist and teacher, was involved in a lurid sex scandal that led to a suspicious death in which Doyle Donovan, the architect she once loved, remains the prime suspect.
On the surface, Lily's homecoming is no more than an uncomplicated act of kindness and affection. But nothing is uncomplicated in Lily's life. When she returns to the home she both loves and fears, she intentionally reopens a painful chapter from her past.
Lily sees herself as a coward, little more than a pretty face. This is far from the truth. In returning home, she knowingly places her life in grave jeopardy. For years and unknown to anyone, she has been receiving anonymous threats, warning her to stay away.
Now that she is home, will intimidation escalate to murder?
Here, I detailed the sexual elements.      I'm not listing those in this essay because, frankly, the sexual acts are smokin'.
Next comes the BLURB:
The year 1887. Bar Harbor, Maine.
Lily Hill's sexual odyssey begins when she returns home to untangle the lies and distortions of her past, a past involving a lurid sex scandal, a suspicious death, and the angry man she once loved and wronged, Doyle Donovan. Despite anonymous threats warning her to stay away, Lily is resolved to make reparations to the brooding Doyle … in any manner he so desires.
And Doyle is a man of many dark desires.
Okay, so what sort of story is TAINTED LOVE? In what CATEGORY does it belong?
The following guidelines are from Dorchester Publishing's Candleglow imprint:
. . . With the popularity of the dark hero again on the upswing, Love Spell has brought back a beloved mainstay of romance: the Gothic. Set against dark backdrops such as Transylvanian castles and keeps on deserted moors, these romances are mainly told from the heroine's point of view. The books most often revolve around a naive heroine who is placed in close proximity with-and often under the protection of-a hero of whom she knows little and whom she suspects or even fears. However, these enigmatic men are often those who claim our hearts and seduce our bodies, and the unveiling of their mysteries is part of the path to true love.

The challenge in writing a Gothic for Candleglow, along with creating an evocative, ominous setting, is maintaining the powerful sexual attraction the heroine feels for the hero-despite any questions she might have regarding her safety and the trustworthiness of her lover. . . 
Told entirely from the 3rd person POV of the heroine, TAINTED LOVE fits this Gothic Romance CATEGORY — except my book is an erotic romance, so there's explicit sex.
These guidelines are from St. Martin's Press/MALICE DOMESTIC CONTEST
for a Traditional Mystery Novel:
. . . .Murder or another serious crime is at the heart of the story, and emphasis is on the solution rather than the details of the crime.
Whatever violence is necessarily involved should be neither excessive nor gratuitously detailed, nor is there to be explicit sex.

The crime is an extraordinary event in the lives of the characters.

The principal characters are people whom the reader might not like, but would be interested in knowing.

The suspects and the victims should know each other.

There are a limited number of suspects, each of whom has a credible motive and reasonable opportunity to have committed the crime.

The person who solves the crime is the central character.

The "detective" is an amateur, or, if a professional (private investigator, police officer) is not hardboiled and is as fully developed as the other characters.

The detective may find him or herself in serious peril . . .
 
Remove the explicit sex, and TAINTED LOVE would fit this CATEGORY too. I use a small cast of characters, there's a strong familial component, an isolated setting, very little gore is described — I even have a tea-drinking elderly lady, a cat, and a house that subs as a secondary character in the story.
Basically, TAINTED LOVE is a cross-genre romance: A gothic, erotic, historical, mystery with BDSM elements.
Okay. Here's the irony: I didn't use any of the above ingredients in the construction of TAINTED LOVE. I just sat at the PC and hammered out a story. TITLE, SYNOPSIS, BLURB, and CATEGORY all came later, pretty much after I had already written the book.
An outline, with cogent and cohesive plot points in advance of writing a book?
Not me. I couldn't produce such an animal, not even if my writing life depended on it.
Letting raw emotion guide me, I write by instinct using as close as I can to an entirely "deep penetration point of view." This means a total immersion in the character's head. If the character wouldn't think it or feel it, I try not to include that thought or emotion in the book. There can be inconsistencies however, and the character should, hopefully, grow during the course of the story.
In the final analysis, I have no idea where I get the ideas for my stories or how they'll unfold (or, more aptly, evolve) until I type "THE END".  Writing for me is an act of discovery, an organic puzzle that I piece together during a multi-layering process. When pressed, I always say my stories and my characterizations originate in my psyche.
Fancy, huh?
In reality, I press the DELETE key many times during the creation of a book, certainly more often than I care to admit, erasing passages…whole pages. And, yes, even chapters. I edit and edit and edit. I revise and revise and revise. Even after all that polishing, I still manage to give human heroes three arms during sex scenes.
Historical romances take time to write. CAPTIVE, TAINTED LOVE, THE ACQUISITION, TOUCH ME, COURTESAN, and my most recent paranormal historical release, ON MOORSTEAD, took almost a year each to complete.
When it comes right down to it, writing an historical is just plain hard work. If you don't love the process, stand clear.