I should have blogged this movie for Valentine's Day, but naturally forgot to do so. Anyway, since I didn't make it to the movies last weekend, I wanted to put up my fave movie of all times: FIRELIGHT.
The link below is from Amazon, and includes a synopsis and many viewer critiques.
http://www.amazon.com/gp/product/6305268843/ref=pd_kar_gw_2/103-6922563-3418262?%5Fencoding=UTF8&v=glance&n=404272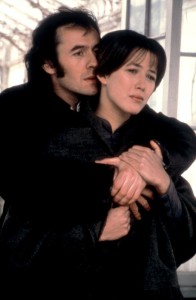 I figure, if you're reading my blog, you must be a hopeless romantic, like myself, and this historical movie is totally, unbearably, unabashedly romantic. And yes, sensuously erotic. And by that, I mean all your senses will be fully involved in the viewing experience.
For example: When the governess Elizabeth (Sophie Marceau) dips her paintbrush in water colors and delicately strokes the textured surface of her sheath of paper, you will hear the scratch of the bristles. When she undoes her corset, you will hear the ping of the hooks. You will feel the chill of the ice-jammed waters where reticent English landowner/gentleman sheep farmer, Charles Godwin ( Stephen Dillane) takes his daily swim. And the visuals! Every scene is a sensual delight. The one where the hero and heroine stand before the fire is not to be missed.
Anyway, if you ever get the chance, do see FIRELIGHT–the movie gets my highest rating for an historical erotic-romance.
(And one of the characters has a truly lovely name.)