When we first moved into the house, a neighbor affectionately referred to our property as "On Golden Pond".
As of last month, that movie title no longer applies. "On Golden Pond" has now become "A River Runs Through It".
During a massive rain storm, we lost the dam. Not the wooden slats we pulled from time to time to aid in aquatic weed control, but a piece of the old retaining wall. A hunk of it broke off and went over the waterfall
The event was was not unexpected.
For some time, we'd had our eye on the even-widening crack in the cement. Several years ago, we lowered the water coming in from the stream and patched the wall with hydraulic cement. We were younger then, and used to physical labor, but even so, it was a massive undertaking. We also knew the patch wouldn't last. The 60 year old wall was in tough shape, and the patch would only provide a temporary solution.
Also, the only solution.
A permanent fix would involve the major expense of dredging the pond of silt, letting the muck dry for a year or more, and major terra forming, not to mention the miles of bureaucratic red tape involved in the Wet Lands Conservation Act. So we've decided not to do anything, just let nature run its course, allow the pond to narrow to a river, banked by cat o' nine tails and rushes on either side.
It's sad to see the end of the pond. In winter, we all went skating there. I'd make hot chocolate, and out the door we'd go. Even the snow didn't stop us; we'd shovel the ice off, strap the kids into their skates, and kill a wintry afternoon. The water was never deep enough for a boat, but one summer, during another rain storm, the pond became so bloated, DH and one son actually went rubber rafting over the waterfall and down the winding stream into the woods. They nearly broke their necks, but I pleaded with them to do it again and again, so I could take more shots with the camera.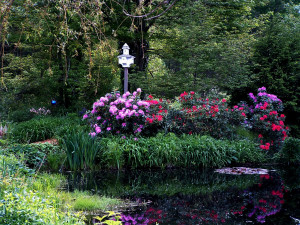 Oh, well. I've still got the pictures.